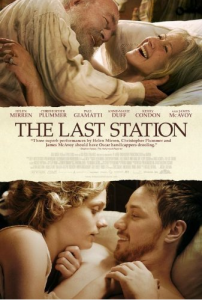 This is a wonderful film! It should be on the expanded Academy Awards list for Best Picture, but sadly it isn't. At least both Christopher Plummer as Tolstoy and Helen Mirren as his wife Sofya are nominated in their respective acting categories. The Last Station is the story of the last years of the great Russian writer Leo Tolstoy's life, his tempestuous relationship with this wife, his coterie of adoring sycophants who turned him into a cult figure, and a young man who became his personal secretary and family confidante.
Fear not though; this is not a heavy Russian novel of a movie. It is a superbly well-crafted love story set inside a fascinating historical period drama. Tolstoy was born into an aristocratic family but after writing Anna Karenina and War and Peace, he developed a "radical anarcho-pacifist Christian" philosophy that fueled a utopian movement lead by worshipful Vladimir Chertkov (Paul Giamatti). Part of this philosophy was to renounce worldly goods, which created a huge problem for his wife Sofya (Mirren) who wanted their family to hang onto their wealth including the rights to all Tolstoy's writing after his death.
Based on a biographical novel of the same name by Jay Parini, The Last Station, written and directed by Michael Hoffman (One Fine Day and Soapdish), begins in 1910, when a naïve young writer named Valentin (James McAvoy) is hired as Tolstoy's secretary. He arrives at the Tolstoy estate to find himself thrown into the middle of a power struggle between Tolstoy's wife Sofya and Chertkov who is determined to get Tolstoy to sign a new will. Valentin is fascinated and confused by the Tolstoys' passionate relationship, and he soon finds himself a pawn between all the factions in the battles, keeping diaries to let each side in on what is going on in the house.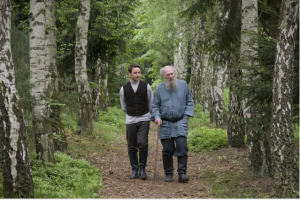 At the same time, he is initiated into the ways of love by a young woman living in the Tolstoy commune, and is schooled in it further in conversations with Tolstoy himself.
Helen Mirren is extremely deserving of the Oscar nod for her portrayal of Sofya, Tolstoy's wife, lover, muse and antagonist. No matter what she is doing — screaming, watching or seducing — you never question her love of her husband and in the end it is truly tragic. (Bring some tissues.) Christopher Plummer is also excellent as Tolstoy and his portrayal of the relationship with Sofya is probably one of the most nuanced roles of his career. I hope they both win. James McAvoy as Valentin delivers a comic coming of age tale and he definitely holds his own with these powerhouse actors. He comes to the Tolstoys with stars in his eyes and in the end has played witness to the total destruction of a marriage, but is nonetheless eager to jump back into a romance of his own with the woman he loves.
The Last Station is beautifully shot and the pacing is just right. It is what real filmmaking is all about. This is a film for grown ups and I mean that in the sense that the story is intelligent, the characters multi-dimensional and the psychological impact deeply resonant. I'd recommend it for anyone who appreciates great characters, great acting, great scriptwriting, and great direction. Can you tell I really, really liked this movie?
This book of photographs by the Countess Sophia Tolstoy looks like it could be a very interesting adjunct to the movie. And there is the original book which I will no doubt read.