Winter's Bone is bleak realism at its best. You may leave the theater happy, but only because no matter what, you'll realize your life is a billion times better than the poor girl's at the center of this film. Jennifer Lawrence plays Ree Dolly, a 17-year-old whose meth-making father has left her with a chronically sick mother and two younger siblings to take care of. When Dad was arrested for drug dealing, he put the house and some timbered acreage up as collateral for his bond and then disappeared. Early on, Ree is informed that unless Dad shows up in court, the house and land will be taken and she and her family will be left homeless. And this is in the most impoverished part of southern Missouri and it is winter.
Ree embarks on an odyssey searching for her missing dad, questioning all the people in his life, and this is not one big happy family. These relatives and acquaintances threaten her, beat her up, and send her away. Her time with a roof over her head is ticking away and no one seems to care. Then the court date comes and dear old Dad doesn't show. The bondsman comes and tells her that she has about a week before the eviction and she kicks into high gear to find Dad, though by this time she is beginning to believe he is dead.
The characters in Winter's Bone could easily have turned into caricatures, but this cast gives wonderful nuanced performances as a group of white trash denizens and backwoods meth-mafia.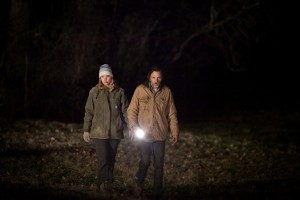 As Ree, Jennifer Lawrence gives an achingly real performance that should get her a lot more notice. As depressing as the subject matter is, Ree's gutsy determination to save her little family really is heart-warming. And John Hawkes as her Uncle Teardrop is the perfect tragic character, hooked on the meth that has ravaged this whole grim place, yet devastated by what is happening to his brother's family.
This wonderful indie adaptation won the Grand Jury Prize at the 2010 Sundance Film Festival and I can see why. I put off seeing Winter's Bone because I knew it wasn't a happy film, but I'm glad I saw it. Be forewarned, but go and see it.