We're a little late to the party on Water for Elephants here at Chickflix. But it turns out we weren't missing much. I read the book and really enjoyed it. The movie, however, is just so-so. I had high hopes given my fondness for the book and the fact that I am a Reese Witherspoon fan. And it started off strong, but then it quickly lost steam.
It's a beautifully shot period drama with Robert Pattison of Twilight fame in the lead. He plays Jacob Jankowski a veterinary student during the Great Depression whose life is turned upside down when his parents are killed in a car accident. Left with nothing and no one, Jacob jumps a train and ends up with a traveling circus. He's soon working as the show's vet with responsibility for the newly acquired "star of the show," the elephant Rosie. Jacob also soon falls for the other star of the show, the beautiful Marlena, played by Reese Witherspoon. The problem is Marlena is also the boss's wife and the boss, August, played by Christoph Waitz, is a jealous and seriously twisted guy.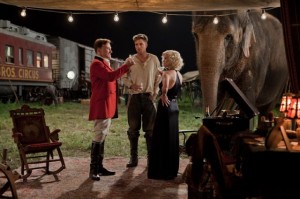 Their love triangle becomes the focus of the movie, and this is why it all falls apart. The supporting characters that were so fully developed in the book are little more than background actors here, getting a line or two only when it serves to move us from plot point to plot point. As for the main characters, Pattison gives a decent performance as a naïve young man finding his way. But Witherspoon isn't as believable as the vulnerable, damaged young woman. It seems more like she should be kicking her sadistic husband's ass than placating him out of fear. And Witherspoon and Pattison together just don't work. There's zero chemistry there.
If Water for Elephants is still in a theater near you, don't feel you should run out to see it. But once it comes out on DVD, it's a worthy chick flick for a rainy day on the couch viewing.