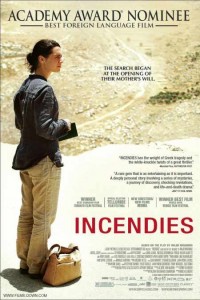 Incendies is a French Canadian drama that was nominated for the 2011 Academy Award for Best Foreign language film and is totally deserving of the honor. Living in small town USA can be frustrating for the lag time in getting to see these films in a theater, but finally, it arrived. (Only 2 left now.)
The story begins as a pair of 30-something fraternal twins, Simon and Jeanne, visit a lawyer for the reading their mother's will. Her last wishes include a couple of requests and surprises; she wants each of them to deliver a letter, one to their formerly presumed dead father, and one to a brother they never knew existed. Simon is not interested in his mother's game, but daughter Jeanne immediately takes off from her job and heads to an unnamed Middle Eastern country to find her father. She does not really know anything about her mother's early life there and the story alternates between flashbacks bringing the audience into the history of the mother Nawal Marwan and her daughter's odyssey.
I suggest anyone who goes to see the film first do a bit of reading about the Lebanese civil war since that is what the film seems to be based around. In flashback we find that Nawal was a young woman from a Christian family who fell in love with a (Palestinian) refugee and brought shame on her family. She had his son but was forced to give him up and leave the village to go and study in the city. Once there she became passionately involved in the political upheaval. Warning: Parts of this war story are harrowing, giving the audience Nawal's close-up view of atrocities and torture. As Jeanne learns more and more about the mother she never really knew, she comes closer and closer to uncovering the shocking secrets Nawal could never bring herself to share with her children. Eventually Simon joins Jeanne and together they find what they were sent to find.
The film is long (130 min.), but I was never bored. It is apparently based on a play that ran to 4+ hours. Incendies is a very personal anti-war howl. At its center is a woman who survives the unimaginable and even in death finds a way to teach her children about love. It is not a movie for everyone. But for people who appreciate great acting, a slowly peeled onion of a story and haunting cinematography of a desert land being torn apart by war, Incendies is worth a viewing. It is intense, but satisfying. And it will stick with you for days.
It is in theaters now, but also available on Netflix and for sale.