Mr. Popper's Penguins is a fine family film for Father's Day. The live action comedy stars Jim Carrey as a divorced dad who's so wrapped up in his work that he's lost sight of what's really important in life – until he inherits six penguins from Antarctica.
At first, Mr. Popper (Carrey) desperately tries to ditch the penguins – especially when they wreak havoc on his swank New York City apartment. But he has a change of heart when his kids go gaga for the squawking waddlers, dubbed Stinky, Loudy, Bitey, Lovey, Captain, and Nimrod. As Popper's home is transformed into a wacky winter wonderland, his strained relationships with his teenage daughter, young son, and ex-wife begin to transform as well.
The movie is a contemporary adaptation of a 1938 children's book by Richard and Florence Atwater – an adaptation that certainly seeks to capitalize on the surging popularity of penguins among the movie-going public (i.e. Happy Feet, March of the Penguins). Carrey's physical comedy shtick works well within the context of Mr. Popper's Penguins, but ultimately, it's the penguins' playful (CGI) performances as "fish out of water" that the kids will remember most.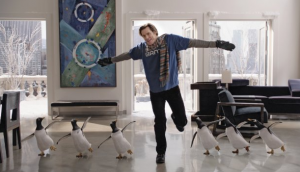 Mr. Popper's Penguins is generally a sweet, cute family film. But I offer this cautionary note to parents and kids going through divorce or separation: Hollywood happy endings can be, well, unrealistic. Just something to keep in mind…
It's rated PG and runs 95 minutes.