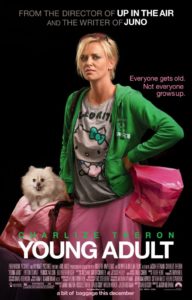 Young Adult has been out for a little while now, but it's definitely worth seeing if it's still in a theater near you or renting when it becomes available. Just be forewarned it is a dark comedy, emphasis on dark. Seriously, from the trailers, I expected this movie to be funnier. They're totally marketing this one as a comedy. But it's much deeper and more cynical than the trailer suggests. Not that it's a bad thing. It just wasn't what I thought I was going to see.

Charlize Theron plays Mavis Gary, a divorced 37-year old author of young adult novels whose book series is coming to an end. She is a hot mess, and not in a good way. She sits around her Minneapolis high-rise apartment watching reality TV, binges on booze and fast-food, hooks up with random guys and looks down on pretty much everyone. In the midst of her emotional breakdown, Mavis decides to return to the small Minnesota lake town where she grew up. It's a desperate attempt to revisit her glory days as the prom queen who dated the hottest jock in school, Buddy Slade (Patrick Wilson). And speaking of that jock, she also intends to seduce him and get him back, even though he's married with a newborn baby.
Once she gets there, she checks into a hotel to avoid seeing her parents and heads straight for a bar. She ends up sitting next to a former classmate she doesn't recognize until she see his crutches and realizes he's the "hate-crime guy" — who was beaten by a bunch of jocks back in high school and left crippled for life. Together Mavis and "hate-crime guy," whose name is Matt, form an unlkely alliance — the pretty girl and the geek — a couple of emotionally stunted wrecks. It's their relationship that is at the core of this movie.
Most of the outright laughs in Young Adult come courtesy of Matt who is played by comedian turned actor Patton Oswalt. He turns in an excellent performance. But it's Theron who is truly outstanding as the high school mean girl who never got over being mean. She plays Mavis without flinching, without giving you even a hint of something to find remotely likable in the character. She totally embraces the role and I hope she gets some recognition for it this awards season.