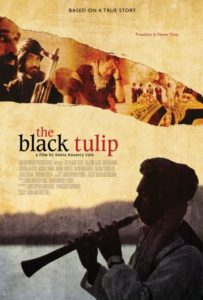 I am sure you haven't seen a lot of films from Afghanistan. It is not exactly the Hollywood of central Asia. But I was intrigued when I heard about The Black Tulip. It is directed and co-written by an Afghan expatriate, Sonia Nassery Cole who bravely shot it in Kabul and also stars as the main character Farishta. The matriarch of the Mansouri family — wife, sister, daughter, mother — Farishta tries her best to lead a normal life after her family returns to Kabul just after the Taliban's reported demise. She and her husband open a restaurant, an open-mic poetry salon, but it seems the Taliban is not far enough away to let them live in peace.

The movie takes place in 2001, when the US Army is already a presence, and Afghan society is just getting back to normal after the years of burqas and Taliban induced hell. The new restaurant called The Poet's Corner has a nice clientele, and the place is a success with locals, the army and even a friendly corrupt bureaucrat. Everything seems to be going well. Farishta's sister is marrying a nice young man. Her daughter is in school. They get a great write-up in the paper. But the Taliban cannot let a place with music, and women without burqas, and little girls who go to school, and poets who speak freely of God exist, and soon the family must contend with death, kidnapping and suicide bombing.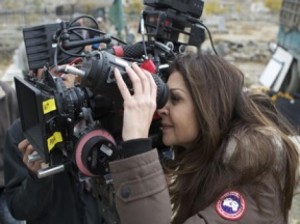 It is not a happy movie. And sadly, it is not all that good a movie either. Ms. Cole has an interesting subject for sure, but the script and the direction are clunky and heavy-handed. There are a few good performances (particularly the husband Haji Gul Aser), but a lot of overacting. This is one of those stories that I am sure meant a lot to the director, who has been working on Afghan issues for decades, but ultimately her passion has not translated into a compelling movie. The Taliban are evil. We know that. Innocent civilians have been killed and are in danger. We know that, too. There are a couple of US Army guys thrown into the mix who are good guys (one is played by Jack Scalia from All My Children), but I have no idea why they are there, except to say that the US was welcomed by the non-Taliban Afghans. I'd say go to see The Black Tulip if you always wondered what the streets of Kabul look like, but otherwise, skip it.