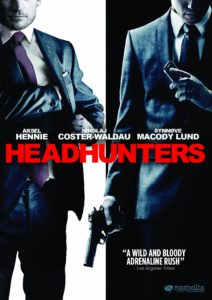 Headhunters is one of those movies that grows on you. I wasn't sure how I felt about it when it was over, but then days after, I kept thinking about it. It is a twisty Norwegian crime thriller about an insecure though powerful headhunter (of the executive search variety) who has overextended himself financially in order to take care of his tall blond super-modelish wife, who he is sure would leave him except for the lavish lifestyle he provides. And so he supplements his income by stealing art. His decision to steal one particular piece puts him in the sites of a very dangerous man.
This is one of those movies where the less I say, the better. What you know is constantly changing, but suffice to say Headhunters is a thoroughly terrifying roller coaster ride. Within a few days, Roger Brown (Aksel Hennie) goes from being in total control of his life, as well as those of a number of high powered job seekers, to becoming the powerless prey running from a vicious and unrelenting brilliant, psychopathic special-ops commando, played by the very easy-on-the-eyes Nikolaj Coster-Walda (Game of Thrones).
Headhunters is a very intelligent film adaptation of a Jo Nesbø novel of the same name that keeps you guessing about loyalties, identities, and reality. The lengths that Roger has to go to in order to stay alive may stretch credulity, but it is a totally absorbing story. Good characters, great action, amazing tension. I would recommend it for all who love a good Scandinavian thriller. You know who you are. It is bloody at times, though not anywhere near a Tarantino level. It would be a great choice for the roosters as well as the chicks in the house. And it is streaming on Netflix already.
If you just cannot take subtitles, have no fear. An American movie company has already acquired the rights to do an English language version, though they will have a hard time outdoing this one.