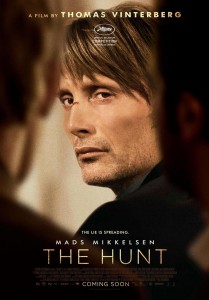 The Hunt is not a happy movie. And it is a story I feel like I have seen before, though it is all in the telling. The draw here is Mads Mikkelsen (Casino Royale, Hannibal), frequently cast as the cold Scandinavian killer. He took home the best actor award at last year's Cannes for his portrayal of this film's lead character, Lucas, a divorced father and kindergarten teacher who is trying to connect with his teenage son and adjust to single life. And it is going pretty well, that is until he suddenly finds himself accused of molesting a little girl.
Set in a small Danish town where everyone knows each other, Lucas begins the film drinking with his buddies after a good hunt, singing silly songs, and holding his own as one of the tribe. And his post-divorce life is getting better. His son is coming to stay with him. He's dating a woman from the school where he works. His best friends invite him for dinner and he is like one of their family. Their little five-year-old daughter loves him and his dog, and even shows up at his house when she is lost, knowing he will help her find her way. But when she wants attention at school one day and Lucas doesn't give it, she makes up a story about him, which gets bigger and bigger as the adults lead her along, until he has been accused of not only molesting her, but all the kids in his class. And the town, en masse, turns against him. It is not a mystery to the audience what happened, but it is sickening to watch how easily people fall in line to believe such a bald-faced lie, despite knowing and liking the man only days (or hours) before.
Mads Mikkelsen is brilliant as Lucas, wearing the hurt of this lie with his whole body. So much of the role is his mounting anguish as his former friends and colleagues refuse to see him for who he is and display their outright hatred for something he didn't do, and as they also transfer their enmity to his son. The Hunt is directed by Thomas Vinterberg (The Celebration), who was one of the founders of the Dogme95 movement, which eschewed technology to focus on story and character, but unlike his co-founder Lars Von Trier (Melancholia), his films are accessible. You must like dark and Scandinavian, and not mind subtitles, but if you're looking for a great character drama, The Hunt is for you!