Love Jane Austen novels and always imagined yourself finding your very own Mr. Darcy? Then you may enjoy this trifle of a flick about a lovelorn young woman named Jane (Keri Russell) who spends her last penny on a vacation where she is promised she can live the "Jane Austen Experience." Despite her friend's protestations that she is letting her Austen obsession ruin her life, she heads to England where she and a couple of other women immerse themselves in a recreation of the world of Austen, with the beautiful period clothes and accoutrements of the time, in a fancy manor house following the rules of Regency-era society, with a selection of hunky suitors vying for their affections. It's very Bachelor circa 1800.
The theme park experience is overseen by the strict Mrs. Wattlesbrook (Jane Seymour) who quickly puts Jane in her place. She's bought the cheap package, so she gets the worst room in the house and is left out of some of the "authentic" activities. So Jane spends her free time wandering about the estate, meeting the handsome stable hand Martin (Flight of the Conchords' Bret McKenzie) and striking up an illicit romance. And back in the manor she slowly gets to know the sullen and private Mr. Nobley (JJ Feild), the perfect stand-in for her dream man Mr. Darcy. But how far can she let the fantasy go? They are acting after all, or are they?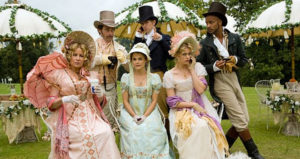 Austenland is an adaptation and I can only imagine that the book had more substance. The film has some funny moments, particularly with Jennifer Coolidge (Best in Show) playing one of the other women throwing around English phrases that are all wrong, as she stalks one of the bachelors in the house. It is a pleasant little chick flick, but feels like it could have been a lot funnier and smarter. It's one of those great set-up, so-so delivery stories. I'd wait for it to come to cable or Netflix. But if you really want to see a fun Austen experience flick right now, I recommend renting Lost in Austen where another modern Austen fan curiously finds herself living inside the novel world of Pride and Prejudice. It is a lot more fun!