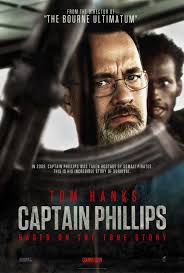 Captain Phillips is all the more fascinating when you realize it's based on a true story… and a bit less fascinating if you the let the real-world facts get in the way of a good cinematic story. There's been a lot of talk since the film came out about the 'real' Captain Phillips, the money that went missing from his boat, and the amount of bullets the Navy Seals fired in rescuing the captain from a band of Somali pirates. All that stuff aside, Captain Phillips is a good movie that will keep you interested, engaged and often on the edge of your seat… even if you know how the story ends.

Here's the gist: Tom Hanks plays Richard Phillips, the captain of the Maersk Alabama, a U.S.-flagged container ship that was hijacked off the coast of Somalia in 2009 by a small group of Somali pirates looking for a big payday. When they're unable to seize control of the ship itself, the pirates (led by their own 'Captain', played by Barkhad Abdi), take Phillips hostage aboard a lifeboat – triggering a tense stand-off with the U.S. Navy.
The performances – particularly by Hanks, who is likely to garner another Oscar nomination – are solid. And the movie surely benefits from the direction of Paul Greengrass (The Bourne Ultimatum), who knows how to make a crowd-pleasing, well-paced flick. Captain Phillips is rated PG-13 so the graphic violence is kept to a minimum. Overall, it's a good flick that should have broad appeal for adults and teens who can appreciate a slice of modern history, with a side of dramatic license.