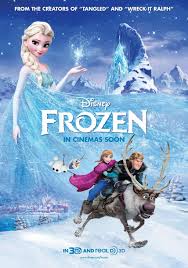 Frozen feels a lot like a broadway musical converted into a Disney animated movie. And that's just fine by me. Case in point:
Okay, so the powerful voice of Idina Menzel as a princess with some chilling powers may be the primary reason to see Frozen. But there are others, including Kristen Bell as a sassy princess looking for love, Josh Gad as a funny little snowman with an ironically sunny disposition, Santino Fontana as Hans, a handsome prince from a neighboring kingdom, and Jonathan Groff as Kristoff, a cute and endearing ice dealer whose livelihood is threatened when summer freezes over in the Scandinavian land of Arendelle.
Frozen is loosely based on a fairy tale called "The Snow Queen" by Hans Christian Andersen. Storywise, the movie musical doesn't quite rise to the level of a Beauty and the Beast or Shrek, but all in all, Frozen is a heart-warming winter treat for kids – and adults. And the music is awesome.