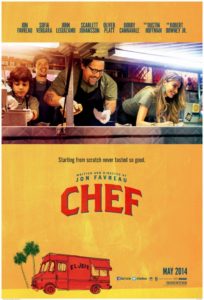 Written, directed and starring Jon Favreau, Chef is the feel good foodie flick du jour. Favreau stars as Carl Casper, a formerly hot young chef who's lost his mojo, but finds his way back by starting from scratch. It's a fun movie with a lot of heart and a fabulous cast. Besides Favreau, it boasts Robert Downey Jr., Scarlett Johansson, Dustin Hoffman, John Leguizamo, Sofia Vergara, and a host of other top shelf talent. For audiences hungering for a change of pace from the special effects driven films out there, this is the ticket!
Chef Carl is a divorced, workaholic Dad who's got a decent job at a decent restaurant, but his days of creative cuisine are behind him, until a famous food blogger plans a visit to the restaurant. Carl decides grab this opportunity to show what he still has in him and to cook him up something amazing, but the owner of the place (Dustin Hoffman) vetoes his plan and forces him to serve the critic (Oliver Platt) some dishes from the regular, safe menu. When the review comes back negative, Carl enlists his 10-year-old son Percy (Emjay Anthony) in using social media to register his displeasure, and not understanding that Twitter is not email he starts a flame war, which escalates even more when he confronts the critic and a video of his rant goes viral.
His reputation ruined and jobless, Carl reluctantly accepts his ex-wife's (Sofia Vergara) help and the next thing you know he's in Miami with a food truck, serving up to-die-for Cuban sandwiches alongside his social media genius son and his buddy/sous chef (John Leguizamo) and igniting his creative culinary spark all over again.
Besides being a wonderful foodie movie, and it really did make me hungry, Chef is a very sweet story of a father and son coming to understand one another, especially during the road trip portion of the film. All the actors are wonderful and the script though simple has some very touching and very funny moments. This would make a great date flick or family flick or chick outing, but be sure you know exactly where the good food trucks are for your post-movie chow down.