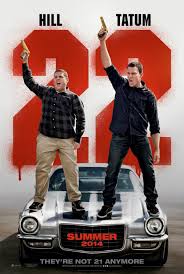 There's a running joke in 22 Jump Street that unabashedly acknowledges that the sequel is basically the exact same movie as 21 Jump Street, except with a bigger budget. No joke. It's basically the exact same movie, except it takes place on a local college campus instead of a local high school and employs the kinds of special effects and car chases employed by bigger-budget films. The plot is basically the same. The jokes are basically the same. The entertainment value is basically the same. And if you recall (or choose to read) my original review of 21 Jump Street, then you'll understand why 22 Jump Street works quite well – for what it is.

Here's the gist: Dim-witted police officers Schmidt (Jonah Hill) and Jenko (Channing Tatum) go undercover as college freshman to try and bust a drug dealer tied to the death of a female student. The bromantic bond between the partners starts to fray as each finds his own place in college life – Jenko with the cool, football-playing, frat-boy crowd and Schmidt with the bohemian, poetry-reading, artsy crowd.
And then, y'know, stuff happens – stupid funny stuff – as the partners find their way back to each other – and crack the case.
22 Jump Street takes a page from the campy 1980s TV series that spawned the silly cinematic franchise by providing a "previously on" recap of the first film at the top of the second. Then it wraps up with one of the best end-credits I've ever seen, previewing all the different ways the franchise could theoretically continue. File this one under harmless, self-deprecating, mindless, stupid entertainment.