The Second Best Exotic Marigold Hotel picks up slightly after the original ended, and if you did not see The Best Exotic Marigold Hotel you could be a bit confused as to the relationships. All the same old folks are living in the ramshackle hotel in Jaipur, India, having ditched their old ways of defining themselves and it is going pretty well. Where the first one was about finding themselves, this one is about finding love. As with the first, a pretty straight forward story is elevated by an amazing cast including Dames Judi Dench and Maggie Smith, Bill Nighy, Dev Patel, and this time Richard Gere. It is a lot of fun!
When we meet up again with the motley crew, Muriel and Sonny (Maggie Smith and Dev Patel) are in California trying to get a senior living chain interested in partnering with them to expand in India. When they get home, they expect an under cover inspector to come and look things over, so when two guests show up Guy Chambers (Richard Gere) and Lavinia Beech (Tasmin Greig), Sonny jumps to the conclusion that Guy is the inspector and falls all over himself to make his stay perfect. Meanwhile, Sonny's wedding and all the customary parties leading up to it are taking place. But Sonny can't suppress his jealousy of the handsome, rich guy who's teaching his beautiful fiancee to dance and also messing with his plans to buy another hotel.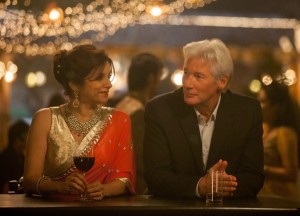 And against this backdrop the lives of the hotel guests go on. And this is the heart of the movie. They are all looking for love. And all afraid of what they might find. But the relationships are sweet, particularly the one with Judy Dench and Bill Nighy. This is also where Richard Gere as Mr. Chambers figures in, wooing Sonny's mother, as difficult as she might be. And by the end love triumphs for all. Of course, Maggie Smith's Muriel is still the curmudgeon with a big heart and steals every scene she's in. The Second Best Exotic Marigold Hotel really is just another act of the heartwarming original film. If you loved the first one, as I did, you will appreciate this one, too. Wonderful actors in a beautiful setting in a funny, uplifting story that doesn't tax your brain. What's not to love?