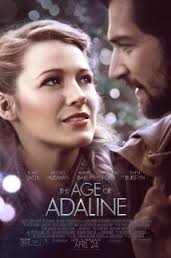 The Age of Adeline is a satisfactory romantic drama that is best enjoyed by those who can suspend all sense of logic and tolerate a bit of an 'ick' factor for reasons that are implied if not fully explored, or exploited, onscreen. More on that later. The lovely and talented Blake Lively plays Adeline Bowman, a young widow and mother in San Francisco who stopped aging after a freak car accident in the 1930s. An overlong voiceover narration explains, in flashback, how it all happened… something about a confluence of events involving water, lightning, and shifting molecular structure. Anyway, to avoid being labeled a freak or subjected to secret government testing, Adeline goes on the run for decades – constantly moving, and changing her identity, to hide her bizarre immortality from the world, including potential suitors. And there are plenty of those, because whatever name she goes by, Adeline presents as a beautiful old soul with a soft, lilting voice, a throwback wardrobe, and a phenomenal knowledge of modern history (go figure). The only one who knows Adeline's secret is her daughter, who ages at a normal pace and could easily pass for Adeline's mother or grandmother.

To avoid heartbreak – her own, and others' – Adeline lives a solitary existence, avoiding much social interaction or romance… until she meets a cute, charismatic philanthropist named Ellis (Michiel Huisman) who chips away at her emotional wall. He convinces "Jenny" (i.e. Adeline) to join him for a weekend celebration at his parents' house for their 40th wedding-anniversary celebration. Long story short, Ellis' father (Harrison Ford) sees Jenny as a dead ringer for the woman he loved and lost many years before. See where this is going? Father… son… same woman… ick?
The Age of Adeline is blessed with strong performances – especially when Lively and Ford share the screen – but it's cursed with some heavy-handed narration, flaws in character development, and a predictability factor that will prevent it from having much of a shelf life. If you liked The Curious Case of Benjamin Button (about a man who starts aging backwards) and/or have a thing for Blake Lively, or if there's a chance you'll live forever and need to fill about two hours – then you may want to check out The Age of Adeline. Otherwise, it's not a must-see.