Currently browsing the "
9/11

" tag.
We Chicks both saw The Report at the Middleburg Film Festival last month. We were both fans of this political thriller that should be seen widely, and agreed that its audience may be limited by the subject matter. And that's unfortunate, because it's an important story, extremely well done, that could very well change hearts and minds about a very dark moment in our country's all too recent past.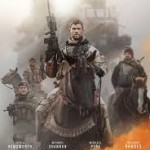 It's Thor! As a soldier! On a horse! That got my attention. And it helped hold my attention while 12 Strong delivered some fairly standard war drama stuff. It's a middle of the road war movie with a western vibe that draws its strength from the fact that it's based on a wild declassified true story revealed in the 2009 book, "Horse Soldiers" by Doug Stanton.