Currently browsing the "
Abel Ferrara

" tag.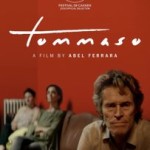 I know I'm the Arty Chick, but this one is too arty for me. I'll admit from the get-go that I've never been a big fan of Abel Ferrara. He's too brutal and revels in making his audiences uncomfortable, and he peoples his films with deeply flawed men in an ugly world. Tommaso is the latest of these. Only this time, the central character is Ferrara as played by Willem Dafoe. Like Ferarra, Tomasso is a filmmaker living in Rome, married to a much younger woman (played by Ferrara's wife), and having a hard time with his latest screenplay. His daily routine is a mix of writing, teaching some sort of improv class, his Buddhist practice, playing with his adorable little girl (played by Ferrara's daughter), and going to AA meetings to regale the others with his tales of messing up. And that's pretty much the whole film. Intrigued?
Italian poet, philosopher and filmmaker Pier Paolo Pasolini loved nothing more than to push the envelope, to scandalize, to shock the senses. So it's only fitting that Abel Ferrara (Bad Lieutenant) should direct a film about his last days since they are gritty birds of a feather. Pasolini stars Willem Dafoe (Spiderman, At Eternity's Gate) who bears more than a passing resemblance to the man who died in 1975, murdered and left to rot on a beach in Ostia. The film is a kaleidoscope of Pasolini's final film and his final quotidian existence, eating with his mother, giving an interview to a journalist, writing away on his typewriter, and trolling for young men to have sex with. And throughout there are scenes from an imagined version of his final script. It's in Italian and English, sometimes subtitled, and sometimes not. And the audience is left to make the connections. The film assumes a knowledge of the filmmaker and his films, frequently making it a frustrating experience. But mostly it's just too coarse and pretentious for my taste.