Currently browsing the "
action thriller

" tag.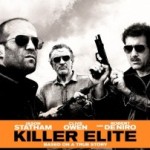 We're late to the party on Killer Elite. But it's certainly not a chick flick and frankly, it will probably be out of theaters faster than Jason Statham could kick your a$$. From this chick's perspective, Statham is one of the two things this movie has going for it. The other is Clive Owen. Beyond that, it's pretty much a mess. Supposedly it's based on a true story. Um, okay if they say so. What that story is, I'm not sure and I didn't really care enough to Google it and find out.
Sanctum is like a beautifully shot National Geographic special that would almost have you craving adventure if it weren't for all the bloody, bloated bodies smashing against cave walls and floating through narrow passageways. Instead, you'll be sitting on the edge of your seat, craving oxygen.