Currently browsing the "
Agnieszka Grochowska

" tag.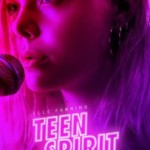 Teen Spirit is a mainstream movie filtered (or squeezed) through an indie lens. It tells the story of Violet, a shy 17-year-old high school student who enters a local singing competition and ends up making a splash on a British television show that resembles – and consequently satirizes – the likes of American Idol, X Factor, and Britain's Got Talent. If you enjoy that genre, then Teen Spirit should lift your spirits, however fleetingly, thanks in large part to its talented lead, Elle Fanning (20th Century Women, The Neon Demon) who really can sing!