Currently browsing the "
Alfie Allen

" tag.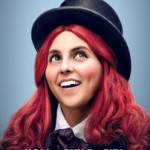 In this engaging coming-of-age flick, Johanna Morrigan (Beanie Feldstein – Booksmart, Ladybird) is a nerdy teenager living on a council estate in Wolverhampton, England in 1993. Her Dad's a ne'er-do-well aging rocker. Her Mom's suffering from post-partum depression after the birth of twins boys. And Johanna just wants to get away from them all. So when one of her other brothers shows her an ad for a writing job at a rock and roll magazine, she sends a sample article. She knows nothing about rock music, but she can write and what does she have to lose?
The moral of John Wick is never ever kill someone's dog, probably a good thing to bear in mind anyway. In the case of this film, the perpetrators of the vile act choose the absolutely worst person possible to piss off. Keanu Reeves plays the title character and he is a retired hit man. And not just any hit man, but the best in the biz. But he left that life behind a while back and got married, and as the film begins, his beloved wife has just died from an unnamed illness. And John is taking it really hard, when a crate shows up at his house with an adorable little dog and a note from the dead wife saying that she wanted him to have a companion to help him get through his grief. So it is not just a dog, but a link to the love of his life.