Currently browsing the "
Anabel Rodriguez Rios

" tag.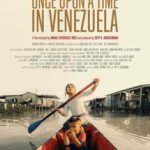 This immersive documentary was seven years in the making. It takes place in Congo Mirador, a small village bordering Lake Maracaibo in northern Venezuela. At one time it was a thriving little town, but sedimentation and pollution from the country's oil drilling industry have killing the fishing industry and people are either starving or moving away. Against this backdrop two women are in a personal political fight. Mrs. Tamara is a die-hard Chávista, and so backs Chávez's successor Maduro and sings the government's praises, despite how clearly it is not working for Congo Mirador. She's also the elected representative of the town. Natalie is a schoolteacher who is vocal about her opposition to the current government, risking her job, but defiant. One of them will not come out the winner.