Currently browsing the "
Apollo 11

" tag.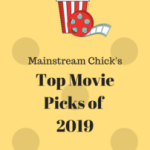 2019 was a good year for movies. I liked a lot of what I saw, and I saw a lot. 200+ films. Blockbusters, documentaries, foreign films, indies. However, for the first time in several years, I don't have any runaway favorites. No definitive number ones, twos or threes. It's more like a 10-way tie for number five that could easily have been a 30-way tie. So take the list (and the order) with a grain of salt, knowing that I enjoyed all these films – and many more – for different reasons at different times depending on my mood and cinematic headspace.
I love Ryan Gosling (La La Land, Drive, The Notebook). I love space dramas, and true stories, and American heroes. I'm a big fan of director Damien Chazelle (Whiplash, La La Land). But I just didn't love First Man – much as I really, really wanted to. It's a solid flick, for sure, with some great visual effects and a moving narrative about the risks and sacrifices astronaut Neil Armstrong (and many others) took in one way or another to advance our exploration of space. I was a mere toddler when Armstrong landed on the moon in 1969, but I can assure you I was plopped in front of the TV along with half the planet to watch history unfold. No #FakeNews here! President John F. Kennedy issued a challenge, and we sent a man to the moon. How awesome is that? This is the stuff of movies! Which brings me back to… First Man.