Currently browsing the "
Beanie Feldstein

" tag.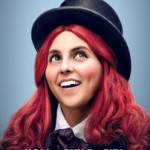 In this engaging coming-of-age flick, Johanna Morrigan (Beanie Feldstein – Booksmart, Ladybird) is a nerdy teenager living on a council estate in Wolverhampton, England in 1993. Her Dad's a ne'er-do-well aging rocker. Her Mom's suffering from post-partum depression after the birth of twins boys. And Johanna just wants to get away from them all. So when one of her other brothers shows her an ad for a writing job at a rock and roll magazine, she sends a sample article. She knows nothing about rock music, but she can write and what does she have to lose?
Ever dream of a high school do-over? Wonder what you might have done differently in those final years of anxious adolescence? Booksmart tackles the what-ifs in a smart and entertaining way as two best friends – both academic overachievers – suddenly realize they probably could have partied more and studied less, without jeopardizing their futures. Their epiphany comes on the eve of high school graduation, leaving the gal pals one last chance to experience all the fun and hijinx they've missed out on the past four years. This isn't a stereotypical 'teens transform from nerds into popular kids' movie. Amy (Kaitlyn Dever) and Molly (Beanie Feldstein) are self-confident and comfortable in who they are and plan to be. They approach their night of fun with the same commitment they applied to their studies, only to learn that book-smarts don't always translate into street-smarts.