Currently browsing the "
Benjamin Walker

" tag.
What can I say? It's a Nicholas Sparks movie! The Choice is yours to make. As I've written many, many times in the past few years, if you've seen/liked any or all of the other romantic dramas adapted from Sparks' sappy best-sellers, then you'll probably like this one too. It's not the best (The Notebook kind of set the bar) and it's not the worst (I lean toward Safe Haven for that honor). But it does fill a gap in the box office for the contemporary romdram.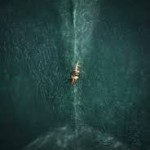 They should have had a bigger boat.
In the Heart of the Sea is sort of like The Perfect Storm meets Jaws – in the year 1820. It's an epic 'big fish' tale with a title nearly as long as the tail of the whale that inspired Herman Melville's literary classic, "Moby-Dick" (which I have yet to read). The best thing the movie has going for it is Chris Hemsworth (Thor). If not for him, I would likely have skipped this cinematic voyage altogether, despite its being helmed by one of my favorite directors, Ron Howard. The pair worked together on the excellent, under-appreciated 2013 movie Rush, in which Hemsworth proved that he's got a lot more to offer than Nordic-god good looks and proficiency with a hammer. Turns out, he's quite handy with a harpoon too!