Currently browsing the "
Benoît Poelvoorde

" tag.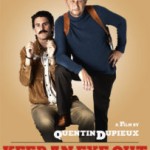 One of last year's most strangely entertaining films was Quentin Dupieux's Deerskin about a man's bloody obsession with a deerskin jacket. Dupieux is back this year with another black comedy, this time a police procedural with a decidedly absurdist twist. There's a murder and a witness/suspect who's being interrogated, and a death in the room that the witness/suspect covers up while the police inspector is out of the room, and some weird time manipulations in the flashbacks of his testimony. And it's all played pretty deadpan. And it's strangely entertaining in a trés French sort of way.
Looking for a fun flick that isn't on everyone's lips yet? Look no further than The Brand New Testament. This absurdist film from Belgium starts with a blasphemous premise. God lives in an apartment in Brussels with his wife (Yolande Moreau) and 10-year-old daughter Ea (Pili Groyne) who are never allowed to leave said apartment. This Old Testament vengeful and angry God (Benoît Poelvoorde) sits around all day in his bathrobe, drinks beer, controls the world through his computer, and thinks up "devilish" ways to harm and annoy the humans he created. But his meanness goes too far for Ea, so she sneaks into his locked God cave and sends text messages to everyone on earth with their death dates. Knowing Daddy won't be amused, she talks with JC, her statue of her brother, who tells her how to get out of the house. And so little Ea gets her first taste of humanity.