Currently browsing the "
Björn Hlynur Haraldsson

" tag.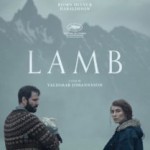 Strange doesn't even come close to describing this folk horror flick. Set in a remote valley somewhere in Iceland, Maria (Noomi Rapace, The Girl with the Dragon Tattoo, Prometheus) and Ingvar (Hilmir Snær Guðnason) go about their lives in relative silence running their sheep farm. But one day as the sheep are lambing, it all changes. Maria brings one super adorable lamb into their house and treats it as you would an infant. Soon Ingvar is moving a crib into their room and they're both parenting the little one. And lest you think they're total weirdos, it turns out that little Ada is in fact half-human. And suddenly their sad existence turns sunny.