Currently browsing the "
Booboo Stewart

" tag.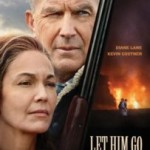 Let Him Go is a slow burn. That takes a turn. That'll make you squirm. Perhaps if you've read the 2013 novel "Let Him Go" by Larry Watson, the shocking moments won't be quite as shocking. But for the rest of us, it's enough to go… YIKES. Forewarned is forearmed, so brace yourself for a rough ride, especially toward the end.
The film's lead actors Kevin Costner and Diane Lane have worked together before – in Man of Steel and Batman v Superman, playing Superman's adoptive parents Jonathan and Martha Kent. In Let Him Go, they are, once again, a loving long-married couple living on a ranch (Montana, not Kansas) with a son who is the apple of their eye. But Let Him Go is no PG-13 superhero flick. It's a character-based adult thriller set in the American West in the early 1960s. The landscape is beautiful and Costner and Lane share an easy on-screen chemistry, which could lull you into a false sense of cinematic security as the story begins to unfold.