Currently browsing the "
Brothers

" tag.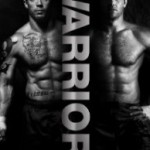 Warrior is NOT this year's The Fighter, though it tries really, really hard to be. Instead, it's a decent but cliché-ridden movie that borrows from every sports drama known to man (and woman, too). Take two cups of Rocky, throw in a dash of Raging Bull, mix in a tablespoon of Cinderella Man, Million Dollar Baby, The Hurricane, and of course, The Fighter, and you've got something close to Warrior. But then again, what do you expect from a movie that centers around Mixed Martial Arts (MMA), a brutally fascinating sport that combines the skills of boxing, wrestling, karate, kick boxing, jiu jitsu and more? Never heard of MMA? Better get with the program, 'cause this once cult phenomenon (a.k.a. "cage fighting") isn't just for closet UFC fans anymore. It's pounding its way into the mainstream, with millions of devotees worldwide.
Brothers is another film that I went to having one expectation from the previews and came away with a different story altogether. Directed by Jim Sheridan (In America) and starring Toby Maguire, Jake Gyllenhaal and Natalie Portman, it is a remake of the Danish movie Brødre which was written and directed by Susanne Bier (After the Wedding).