Currently browsing the "
Candice Bergen

" tag.
If you've ever been part of a book club and/or read the kinky romance trilogy "Fifty Shades of Grey," then you'll totally 'get' this movie and enjoy a few good laughs along the way. It's formulaic and predictable and largely stakes-free, but as the friend who accompanied me to a special Mother's Day screening of the film declared, "We need that type of movie once in a while!" In other words, don't over-think it. Just appreciate Book Club for its lighthearted nature and positive themes about embracing change, taking risks, and starting new chapters in the book of life. And, enjoy it for the cast: a powerhouse ensemble of veteran actors led by Diane Keaton, Jane Fonda, Candice Bergen and Mary Steenbergen.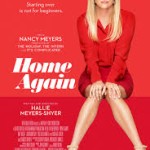 No harm, no foul. Sweet Home Alabama – um, I mean, Home Again, is light and fluffy, formulaic, predictable, enjoyable and forgettable. And it serves as a pleasant alternative at the box office for those who might prefer a mindless modern romantic comedy to a horror story about a creepy clown that terrorizes and kills kids (IT).