Currently browsing the "
Celia Weston

" tag.
I vaguely remember getting caught up in "The Secret" craze circa 2006. One of my more spiritual-minded friends passed along a copy of the popular self-help book by Rhonda Byrne. Visualize your goals and dreams, it implored (ever so gently), and – voila! – they will surely come true. No comment.
Cynical and jaded as I may be, I do understand 'The Secret' appeal – especially in these crazy times. And that's why the rather lame movie, The Secret: Dare to Dream, gets a 'kumbaya' pass. Embrace what it's going for; forgive the rest.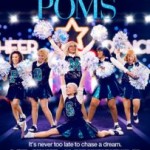 Three cheers for braving new things as we age! One cheer for the movie Poms, which should have been so much better given its veteran ensemble of Hollywood golden girls. The movie has moments that are relatable and funny and poignant, but it doesn't break any new ground and will escape your memory faster than you can say Bring It On. It's a bittersweet comedy about death and dying. And living. And friendship.