Currently browsing the "
Chloe Coleman

" tag.
If you've never seen Notting Hill (1999), I strongly advise you watch that particular romcom before stepping into a theater– or onto a Peacock (network)– to see Marry Me. The premise is similar but the execution of the Julia Roberts-Hugh Grant classic is sooooo much better. If you've already seen Notting Hill (a few dozen times), then you will be forgiven if drawn into the fluffy imitation starring the likeable duo of Jennifer Lopez and Owen Wilson.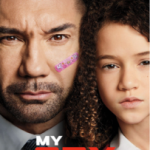 My Spy happened to be the last screening I went to in early March, before the coronavirus upended all our lives and, consequently, Hollywood's theatrical release schedule. In retrospect, My Spy was just what the doctor may have ordered: relatively mindless escapist fun in advance of toilet paper hoarding, sanitizer sticker shock, and mandated #SocialDistancing. My Spy follows the story of a big and burly CIA operative (Dave Bautista, Guardians of the Galaxy) who finds himself at the mercy of a precocious 9-year-old girl (Chloe Coleman, "Big Little Lies") who threatens to blow his cover unless he teaches her the tricks of his trade. Picture just about any action comedy with the likes of Dwayne 'The Rock' Johnson, John Cena or Arnold Schwarzenegger paired with a clever kid, and you'll know what you're in for with My Spy. A porous plot held together with sweet, corny, funny and poignant moments, infused with a solid dose of mayhem perpetrated by kids and adults.