Currently browsing the "
Common

" tag.
Nina (Mary Elizabeth Winstead) is a foul-mouthed comedienne in New York struggling to make her mark. And she's in a sick relationship with a married man. Something's gotta change. Her only hope is a move to LA where there's a competition that, should she win, she'll get a one hour special all her own on a hit show called Comedy Prime. So NY girl heads to the coast. And she meets nice guy Rafe (Common) there. Only she's really not that good at healthy relationships because she has all this baggage. So will she win the competition and figure out how to be with a guy who treats her right?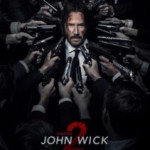 He's back! And he's still a bad ass killer. I called the original John Wick stylishly violent, and this one takes it up another notch, both on the style and the violence. But it's still the story of a sad and weary hit man who's brought back in to the violent world he's trying to leave behind. Keanu Reeves stars as Wick and he's just as fun to watch as the last time.