Currently browsing the "
concert film

" tag.
Calling all true Beliebers, this one's for you! There's not much more to say other than Justin Bieber: Our World will reaffirm his fans' love for Justin– the man (when did that happen!?) and the artist– and it may impress those on the fence about the Grammy-winning pop star. The Biebs comes off quite sincere in this concert film that chronicles the run-up to, and the songs performed at a groundbreaking show that took place on New Year's Eve 2020 on the rooftop of the Beverly Hilton hotel while adhering to a slew of strict COVID-19 protocols.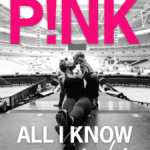 "I'm comin' up so you better get this party started." Oh yeah, okay. I do know some PINK music!
PINK: All I Know So Far was smart to start with that concert performance snippet to draw me into the story of a popstar I don't know much about, though I was generally familiar with her music, her flair and of course her hair. The documentary takes us behind the scenes of Pink's record-breaking 2019 "Beautiful Trauma" world tour as she juggles being a mom, a performer, and a boss. For the most part, it's typical concert documentary fare (see: recent docs Billie Eilish and The Boy From Medellin). And, for the most part, it does what it was obviously meant to do –making Pink more relatable as a person, sans makeup and all, even when holed up in a high-end suite overlooking the canals of Amsterdam with her hubby and two young kids in tow.