Currently browsing the "
Danny McBride

" tag.
This Is The End isn't for everybody – by a long shot. But for those who enjoy the likes of Pineapple Express, Harold & Kumar, and The Hangover… and maybe a zombie movie or two… then This Is The End is most definitely for you. It's disturbingly comical. Absurdly funny. Satirically sickening. In other words, it's quite good, especially for a comedy about the apocalypse. The movie stars a bunch of movie stars playing fictional versions of themselves – or at least, I hope they are fictional versions (yeah, I'm talking to you Michael Cera!). Here's the gist: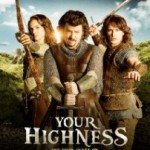 If you're a fan of Beavis and Butthead and the Jackass movies, then chances are you might be able to appreciate the wealth of weirdness and crude humor that is Your Highness. But for me… well… I just don't get it.