Currently browsing the "
Danny Ramirez

" tag.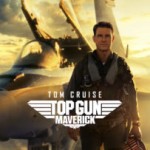 As sequels 30+ years in the making go… TOP GUN: MAVERICK delivers at mach speed. The high-adrenaline action drama is like a remake, homage and sequel all rolled into one. If you're like me and can recite most every line of the 1986 classic, then you'll feel very much at home with the pacing, characters, and latest shenanigans of fearless Naval aviator Capt. Pete "Maverick" Mitchell (Tom Cruise).
"Son, your ego's writing checks your body can't cash." "I feel the need; the need for speed." "Negative, Ghost Rider, the pattern is full." "You can be my wingman anytime." I could go on… but I digress! The dialogue in TG: MAVERICK may not be quite as quotable as those particular gems, but it's close enough to elicit a chuckle, lump in the throat, or a flash of memory–seemingly right on cue. "Talk to me Goose."
This taut little thriller is the perfect flick to watch from the comfort of your couch. In it a young woman checks herself out of rehab to rush to her dying mother's bedside, only to get stranded with a group of strangers at a visitors' center in the middle of a snow storm. But when she steps outside hoping to get a signal on her phone so she can contact her sister, she discovers a little girl trapped in a van and has to try and figure out which of her four fellow travelers is the kidnapper and how to rescue her. It's a brisk story with enough twists and turns to keep you engaged from beginning to end.