Currently browsing the "
David Denman

" tag.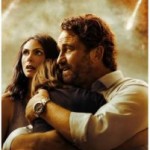 Greenland may not be the type of movie we need right now, but it may be the type of apocalyptic thriller some fans want. It won't displace anything from any critic's 'top 10 list' of 2020 movies. Or top 20. Or 30. Or maybe even 40. But hey, in a time when our lives are consumed by a killer virus circulating in the air, what's the harm in taking two hours to watch a somewhat normal family fight for survival as a catastrophic comet comes racing towards Earth? (That's a rhetorical question).
Directed by Marc Turtletaub, who produced Sundance faves Little Miss Sunshine and Sunshine Cleaning, Puzzle is the story of Agnes, a woman in her 40s who has yet to push the limits of her proscribed identity of wife and mother. Her life consists of taking care of her husband and two college-age sons and taking part in her local Catholic church. But when she receives a jigsaw puzzle for her birthday, it leads her to begin venturing out and finding that life has a lot more to offer. Kelly Macdonald (No Country for Old Men, Boardwalk Empire ) is simply perfect as the awakening protagonist, putting together the pieces of her new life and realizing her own worth. It's not a big film, but it is satisfying.