Currently browsing the "
David Hasselhoff

" tag.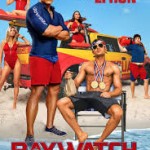 Prepare to wade into shallow waters! I mean, c'mon, it's Baywatch– the movie. Do you remember the television series? It's not meant to be deep. It's meant to be stupidly entertaining. And it is. Barely. For the most part, the film pokes fun at its soapy self, delivering what might have been a particularly raunchy, yet heartfelt "special episode" of the show, wherein the lifeguards get wind of a drug dealer in their midst and decide to bring down the bad guys (and gals) themselves instead of, you know, calling the cops.
Guardians of the Galaxy Vol. 2 does what a good sequel is supposed to do. It preserves the elements that made the first one a big success (intergalactic action and adventure, quirky characters, heaps of sarcasm, and an awesome soundtrack), while building on the backstory and expanding the ever-expanding Marvel universe. If you liked the first GOTG (2014), you're sure to like the second at least as much, if not more – from the opening sequence featuring a baby Groot rocking out to classic tunes, all the way through the FIVE bonus scenes peppered throughout the closing credits.