Currently browsing the "
Debra Winger

" tag.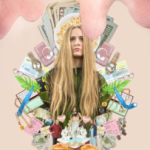 Kajillionaire is flush with quirk. It's an odd dramedy about a family of con artists comprised of Theresa (Debra Winger), Robert (Richard Jenkins), and their 26-year-old daughter Old Dolio (Evan Rachel Wood). All her life, Old Dolio has been taught to swindle, steal and scam at every opportunity. It's all she knows, because it's all her parents know. But then, during a hastily-conceived heist, a stranger named Melanie (Gina Rodriguez) enters their midst and turns Old Dolio's world upside down. Melanie gives Old Dolio a chance to experience normal human interaction and childhood pleasures (pancakes!) for the first time, leaving Old Dolio to question whether her parents truly love her or simply view her as a pawn in their endless game of chicanery.
I missed my chance to see the Amy Schumer/Goldie Hawn Mother's-Day-weekend comedy Snatched and King Arthur: Legend of the Sword before they opened, but that didn't stop me from chatting about them with someone who did. So tune in to the Cinema Clash with Charlie and Hannah for lively debate about those two flicks, in addition to the dysfunctional marital drama The Lovers, the psychological war drama The Wall, and the surprisingly entertaining deadline-oriented documentary Obit.