Currently browsing the "
Demi Moore

" tag.
If you're just dying to see how Wall Street crashed and burned in 2008 from the insider view, then Margin Call is the movie for you. Set inside a firm that is a fictional stand-in for any number of real investment banks, the film takes place over the span of one day in which the entire house of cards threatens to fall apart, taking every person in the company down.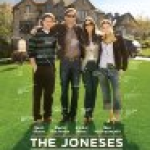 The Joneses is a pleasant surprise that has the potential to be a sleeper hit. It features a great ensemble cast led by David Duchovny and Demi Moore as "Steve and Kate Jones", a picture-perfect yuppie couple living a seemingly picture-perfect existence in suburbia USA with their two "teenage" kids, Jenn (Amber Heard) and Mick (Ben Hollingsworth).