Currently browsing the "
Destin Daniel Cretton

" tag.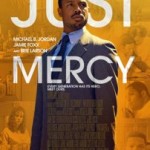 Just Mercy is an infuriating and inspiring legal drama based on the true story of a man who spent six years on death row for a crime he didn't commit, and the young, Harvard-educated lawyer who worked feverishly to get him sprung. That lawyer – Bryan Stevenson (Michael B. Jordan) – is not some long-dead legal eagle who won his case and faded into the sunset. He's a champion of social justice who created the nonprofit Equal Justice Initiative in Alabama, and continues his crusade to this day to help the disenfranchised.