Currently browsing the "
El Secreto de Sus Ojos

" tag.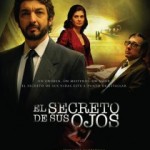 El Secreto de Sus Ojos was the very deserving winner of the 2010 Academy Award for best Foreign Film. (I have to admit it is the only one of those nominated that I have seen so far, so stay tuned.) It is both an absorbing crime thriller and a heartbreaking love story. Set in Buenos Aires, in the years between 1975 and 1999, the central character Benjamín Espósito is played by Ricardo Darín who reminds me of a Latin Alan Rickman, and I LOVE Alan Rickman. Darín is the same kind of sensitive, sensual actor.