Currently browsing the "
Elizabeth McGovern

" tag.
Downton Abbey is a movie for the legions of loyal fans of the "Downton Abbey" television series, and I am quite confident they will be most pleased with this highly-anticipated opportunity to revisit the estate and all its inhabitants, from the aristocratic Crawley family upstairs, to the devoted servants down below.
What? You've never seen the show and don't know a Crawley from a crawfish? Oh dahling, I'm afraid you must move on. Or binge watch the six seasons that ran on PBS from 2010 to 2015. Or, at the very least, watch this 10-minute recap on YouTube, followed by the extended series finale, available on Amazon Prime. That's what I did. Sure, it's a bit like sneaking into a marathon a mile or two from the finish line. But without that baseline of knowledge about the characters and their backstories, I would have felt completely lost. I'm sure I still missed plenty of subtext, but at least I was able to appreciate the fine acting, witty dialogue, gorgeous costumes, early 20th Century set design, and the bucolic scenery.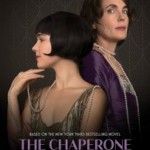 Louise Brooks was a silent screen phenomenon. A woman whose style all others copied. But before she was a star, she was just a teenager in Wichita, Kansas. The Chaperone is the story of her trip to New York at the age of 15 to attend a prestigious dance school and launch her career. And though she's the one who became a star, it's her chaperone who's at the center of this Masterpiece Theater drama. A local woman named Norma Carlisle (Elizabeth McGovern, Downton Abbey) overhears Louise's mother at a party lamenting that her daughter is in need of a chaperone and volunteers her services. She has an ulterior motive, of course. She's escaping a fractured marriage and also searching for her birth mom who abandoned her decades earlier in a New York orphanage. Written and directed by Downton Abbey alums Michael Engler and Julian Fellowes, this period drama is a fascinating tale of liberation and self-discovery.