Currently browsing the "
father/daughter relationship

" tag.
On the Rocks is a mellow, totally forgettable yet easy enough to watch father-daughter relationship dramedy written and directed by Sofia Coppola. It stars Bill Murray as Felix, a charming, larger-than-life philanderer who helps his daughter Laura (Rashida Jones) investigate whether her husband Dean (Marlon Wayans) is cheating on her. After all, who better than Felix to know the tricks of the infidelity trade?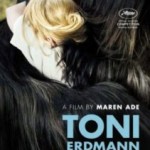 This father-daughter dramedy/farce from German director Maren Ade may clock in at 162 minutes, but I never got bored and it certainly didn't drag. The film starts with a familiar premise, but doesn't go to the sentimental or obvious places you're expecting. It pits Ines (Sandra Hüller), an über-focused young corporate consultant, against her semi-retired dad Winfried (Peter Simonischek) who just loves a good gag or practical joke. He drops in for an unannounced visit with Ines and tries to get her to loosen up and have a life, and all she wants is for him to go home so she can get back to business. Though it does lead to a happy ending, the journey is full of absurd scenes and uncomfortable moments.