Currently browsing the "
Gemma Chan

" tag.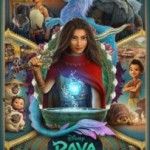 The only opinion that really matters here would be that of a kid who likes animated movies. Especially Disney animated movies. And for that particular demographic, Raya and the Last Dragon is a pretty safe bet. The movie stays true to the conventional Disney formula with a story, animation and voices that kids can embrace and parents can easily tolerate. It's not top-tier classic Disney, but it's a pleasant enough family-friendly diversion if you have Disney+ with Premier Access (i.e. it'll cost ya extra). It's also being released in select theaters, but I still can't suggest anyone of any age go that route before we reach something close to herd immunity.
2018 is the year filmmakers decided to school their audiences on the Queens of England. In the archly funny The Favourite, a couple of women battle to become Queen Anne's confidante and proxy. On the flip side, Mary Queen of Scots, is an unfunny battle royale to be the sovereign of the whole of England and Scotland, with armies deployed and lots of palace intrigue. It stars two actresses at the top of their game. Saoirse Ronan plays Mary, and Margot Robbie is Elizabeth I. But sadly, while both of their performances are strong, it's not enough to lift an otherwise poorly framed history lesson of a script.