Currently browsing the "
Golden Globe winner

" tag.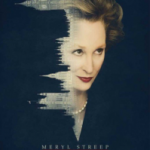 Meryl. I think she deserves to be known by one name by now. What an actress! What an amazing variety of roles she has played in the past few years: It's Complicated, Julie & Julia, Doubt, The Devil Wears Prada, Mamma Mia! and so many others. Now she brings us another of her memorable performances as Margaret Thatcher in The Iron Lady. Unfortunately, it is not all that good a movie. Yes, Meryl is her usual great self, but Maggie just is not likable or layered. And the script does not help.
The White Ribbon won the Palme d'Or at Cannes and the 2010 Golden Globe for best foreign film and seemed to have a lock on winning the Academy Award as well, but was surprisingly bested by The Secret in their Eyes. And now, having seen both, I understand why. The Golden Globes are voted on by a small group of foreign journalists, while the Academy Awards are decided by mostly American viewers. The sensibilities could not be more different.