Currently browsing the "
Golden Globes

" tag.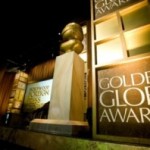 And so the awards season begins. The Golden Globes nominees were announced today. And as usual, unless you live in a big city, there are a lot that you will not have had an opportunity to see yet. But there are no big surprises here, except perhaps that there are no real blockbusters in the mix. Toy Story 3 was the highest grossing picture of the year. Remember though as you read that the Hollywood Foreign Press Association, which gives out the Golden Globes is just 90 journalists' opinions and they frequently nominate stars they like no matter what they're in (see this year's Johnny Depp.)
It has begun. The film awards season is upon us. The Academy Awards aren't until March 7, but in the past couple of days, the film societies have begun releasing their picks for 2009. (The Oscar nominations don't come out until Feb. 2.) Now, I really wish I'd seen The Hurt Locker when it was here, but I blinked and missed it. There seem to be a lot of nominees and/or winners that have not come out yet, or have only opened in limited release. I guess that is the way they always do it, so the voters remember the films. But it makes it hard for those of us not in LA or NY to know if they are right when we haven't been able to see the films yet. Then again, it makes the holiday film season all the more fun, trying to see all the nominees in theaters in the coming weeks.