Currently browsing the "
Graham Greene

" tag.
Molly's Game is based on the true story of Molly Bloom, a competitive freestyle skier who famously blew her Olympics chance and then rose to the pinnacle of the high stakes poker world running the most exclusive games in the country. The film is writer extraordinaire Aaron Sorkin's (West Wing, The Social Network) directorial debut. And it's intense. Jessica Chastain is outstanding as Molly. She's smart and driven and living large. And Idris Elba is very easy on the eyes as Charlie Jaffey, the high-powered lawyer she hires to save her when it all comes crashing down and the FBI comes after her.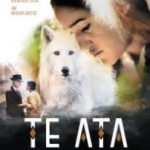 Te Ata was the stage name Mary Thompson Fisher took on in 1919 when she left her Chickasaw home in Oklahoma to pursue a career in acting. The film is the inspiring story of her journey to becoming a renowned storyteller who brought the stories of Native Americans to the white population. Played beautifully by Q'orianka Kilcher, Te Ata was a true pioneer, breaking barriers and humanizing her people at a time when the government was still actively trying to suppress their culture. The film lays the racist politics out clearly, but focuses on the story of the unheralded hero. Girl power!