Currently browsing the "
Granite Mountain Hotshots

" tag.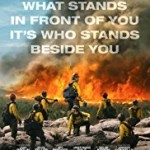 Only the Brave is a solid, engaging drama that is all the more impactful in light of the recent wildfires in California. Fire is as much a character in Only the Brave as the 20 Granite Mountain Hotshots– and their families – to which the film pays tribute by sharing the true story of the elite firefighting unit, and their sacrifice on June 30, 2013. Nineteen of the men died trying to protect their community from the historic Yarnell Hill Fire in Arizona. One survived. The movie, based on a 2013 GQ article, features a strong ensemble cast led by the ruggedly charming Josh Brolin as Hotshot supervisor and father figure Eric Marsh. Miles Teller (Whiplash, Bleed for This, and the upcoming Thank You For Your Service) gets one of the more prominent sub-plots as Brendan, a young man with a troubled past who's determined to turn his life around. He gets his second chance with the Granite Mountain Hotshots (think Top Gun with firefighters instead of fighter pilots).