Currently browsing the "
Heather Graham

" tag.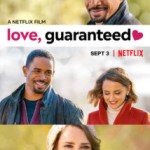 The only thing guaranteed about Love, Guaranteed is that you'll barely remember watching it. In fact, I almost forgot to write this review. As Netflix original romcoms go, this one is just plain weak. The premise seems engaging enough: An earnest do-gooder of a lawyer named Susan (Rachael Leigh Cook) desperately needs to pay some bills to keep her small office afloat. So she agrees to take the case of Nick (Damon Wayans Jr.), a charming, high-paying client (Damon Wayans Jr.) determined to sue a dating website for fraud. He's followed all the rules, and the fine print – going on at least 1,000 dates ("breakfast, lunch and dinner") – but alas, no love match. He not only wants his money back – he wants damages as well. To the tune of, say, one-million dollars. Or at least a half-million. Certainly not the piddly 100k the site owner (Heather Graham) is willing to shell out to settle the case. As if you can really put a price on love anyway!
I guess there's a reason we don't really hear about great animated movies from Lionsgate and Splash Entertainment. If Norm of the North is any indication, they don't make them! This movie was simply boring, with some of the worst character development and weakest plot points I've ever seen in a movie about preserving the environment. Little kids who don't know better may still enjoy watching Norm for the cute animals, occasional pop songs, and cartoonish style. But the adults – except for a few random lines that are tossed their way (i.e. over the kids' heads) – will be yearning for a thousandth replay of Frozen or Inside Out.